Blog
March 26, 2021 |
Modified Hours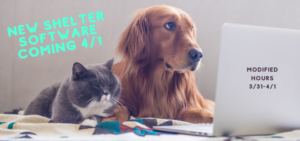 Animal Services is very excited to announce that we are getting new shelter software!  There are many great features that we are looking forward to sharing with you over the upcoming months.
We will have the following modified hours to allow staff time to transfer information into the new database:
Closed: 1pm 3/31 – 1pm 4/1
Phones Only: 1 – 5:30pm 4/1
On Friday, 4/2, we will return to our current schedule.
THANK YOU FOR YOUR UNDERSTANDING!
---