Blog
June 26, 2023 |
National Adoption Weekend June 30 – July 1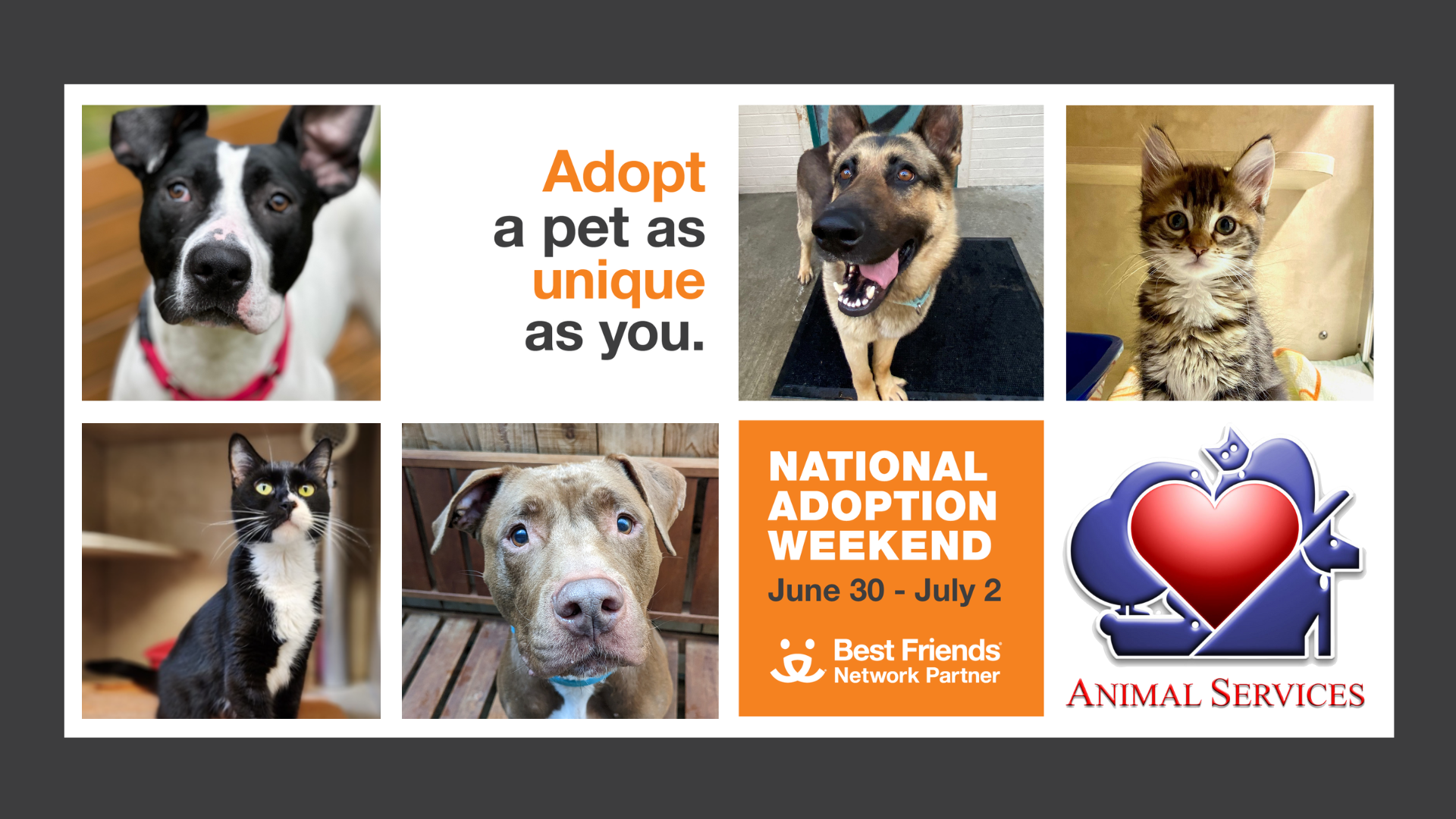 Joint Animal Services is partnering with Best Friends Animal Society to offer REDUCED Adoption Fees June 30-July 2
Olympia, WA (June 26, 2023) –   Joint Animal Services is partnering with Best Friends Animal Society, a leading animal welfare organization working to end the killing of cats and dogs in shelters by 2025, for the fifth National Adoption Weekend happening June 30-July 1. All adoption fees are reduced to $25.
"Joint Animal Services is so excited to be participating in this national adoption event! We have so many wonderful animals that are in need of a loving home," said Sarah Hock, executive director.
Joint Animal Services is located at 3120 Martin Way E in Olympia. Operation hours are Tuesday – Friday, 9:30 to 5:30, and Saturday, 9:30 to 4:00. To view our adoptable pets, and what our adoption fee includes: please visit our website at https://jointanimalservices.org/available-pets/
Recent data released by Best Friends showed that in 2022, 57% of shelters in the U.S. were no-kill, but 378,000 dogs and cats were killed nationally largely due to a continued decrease in dog adoptions compared to pre-pandemic rates.
Shelters across the country are experiencing an increase in animal populations and adoption rates aren't keeping pace, resulting in overflowing kennels. That's why Best Friends Animal Society, and nearly 600 shelter and rescue partners have joined together for the national event. By adopting a unique and loveable shelter pet, two lives are saved – that of the adopted cat or dog, and another that can now take their space in the shelter.
"We are excited to host our fifth National Adoption Weekend, encouraging the community to add a new pet to their home this summer," said Julie Castle, CEO, Best Friends Animal Society. "These warmer months can see some of the highest intakes in shelters, so it's critical the shelter staff and volunteers have the support they need from the community. If you can, please adopt and foster. And if you already have pets, make sure they're microchipped and spayed/neutered."
At a time when so many shelters across the country are short-staffed and well over capacity, individuals can help save lives by choosing to adopt a deserving pet from a shelter or rescue group instead of purchasing from a breeder or store. If you can't add to your family right now, you can still help by spaying or neutering your pets, fostering kittens or an adult dog, volunteering, donating, and advocating for proven lifesaving programming for local pets.
About Joint Animal Services
Our mission is to foster an environment of respect, responsibility, and compassion for all animals through learning, legislation, and leadership. We are Thurston County's primary regional animal shelter and animal control agency.  Established in 1977, the cities of Lacey, Olympia, Tumwater, and unincorporated Thurston County fund Joint Animal Services, which currently operates in an 8,000 sq. ft. facility on 5 acres of wooded land in a centrally-located site for the pets and people we serve. Our facility and staff service 303,976 residents in 774 square miles of urban and rural terrain, taking in over 2,600 every year.
About Best Friends Animal Society
Best Friends Animal Society is a leading animal welfare organization working to end the killing of dogs and cats in America's shelters by 2025. Founded in 1984, Best Friends is a pioneer in the no-kill movement and has helped reduce the number of animals killed in shelters from an estimated 17 million per year to around 378,000. Best Friends runs lifesaving programs across the country, as well as the nation's largest no-kill animal sanctuary. Working collaboratively with a network of more than 4,300 animal welfare and shelter partners, and community members nationwide, Best Friends is working to Save Them All®. For more information, visit bestfriends.org.
---