Blog
April 7, 2016 |
Toxic algae advisory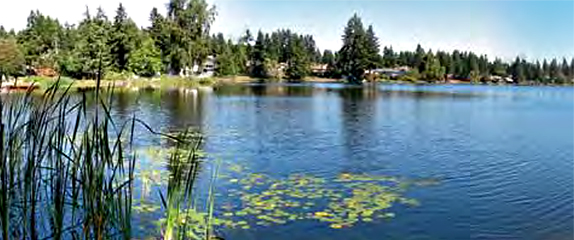 THURSTON COUNTY NEWS RELEASE
FOR IMMEDIATE RELEASE:  Thursday, April 07, 2016
Contact:
Jane Mountjoy-Venning, Thurston County Environmental Health Division, (360) 867-2643 or venninj@co.thurston.wa.us
Art Starry, Thurston County Environmental Health Division at (360) 867-2587 or StarryA@co.thurston.wa.us
TOXIC ALGAE ADVISORIES IN EFFECT FOR LONG LAKE AND PATTISON LAKE
Swimmers, pet owners and anglers advised to avoid contact
Olympia-Toxic blue-green algae advisories are now in effect for Long Lake and Pattison Lake in Thurston County. Water samples taken from the two lakes on April 4 found the algae toxin Anatoxin at close to 20 micrograms per liter of water (ug/L), well above the state standard of 1 micrograms per liter for recreational water use. The toxin level at Long Lake is 19.27 ug/L; the toxin level at Pattison Lake is 21.82 ug/L.
Anatoxin is a neurotoxin that affects the nervous system. Contact your doctor or veterinarian right away if you or your pets show any signs or symptoms of poisoning. Symptoms of neurotoxin poisoning can appear within 15-20 minutes after ingesting toxic algae.
In animals, signs include weakness, staggering, difficulty breathing, convulsions, and death.
In people, signs may include muscle cramps, twitching, numbness of the lips, tingling in fingers and toes, and dizziness.
"Given the expected warm weather today, children and pets may be eager to play in the water," said Art Starry, Director of the county's Environmental Health Division. "We recommend that people stay out of the lakes and not risk getting sick. This is especially important for small children and pets, who are most susceptible to the effects of toxic blue-green algae." Anglers who fish the affected lakes are advised to practice catch and release until the advisories are lifted.
Warning signs are posted at public access points, public boat launches, and any other community access points on each lake. The lakes will be monitored weekly until algae levels are at or below the state standard and the advisories can be lifted.
In addition, water samples were taken from Ward Lake and Black Lake on Wednesday, April 6. We do not expect toxin results back until early next week.
While not all algae blooms are toxic, some algae can produce toxins that can harm the nervous system, the liver, the skin, and the stomach and intestines. Experts from the county's Environmental Health Division recommend a few simple tips to help prevent illness from algae:
Avoid swimming, wading, wind surfing and water-skiing in waters where algae blooms are present.
Don't drink untreated surface water.
Keep pets and livestock out of waters with algae blooms.
When fishing, catch-and-release is the safest practice. If you do eat your catch, clean any fish you catch thoroughly if you see algae blooms. Before eating, remove the internal organs, which may contain harmful algae toxins.
Avoid areas of scum when boating and clean your boat thoroughly.
WHAT: Toxic Algae Advisories for Long and Pattison Lakes
No swimming, no pets, no fishing advised
WHEN: Effective Immediately
WHERE: The health advisory is in effect for Long and Pattison Lakes
Advisories are posted at public and community access points and public boat launches on each lake
For more information about toxic algae blooms and other water quality information, visit the Thurston County Environmental Health web pages at www.co.thurston.wa.us/health/ehadm/swimming/swimming_index.html
---