Blog
August 10, 2018 |
Microchip Clinic Wednesday, September 12!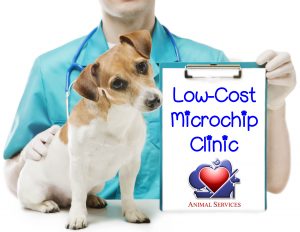 Animal Services is holding a low-cost microchip clinic at the Shelter!  If you have dogs or cats and live in Lacey, Olympia, Tumwater, or unincorporated Thurston County, this clinic is for you!
Wednesday, September 12 from 6 – 7:30 pm
$10† for dog and cats currently licensed* with Animal Services (Microchip is linked to owner via current license.)
$20† for dogs and cats outside the areas Animal Services covers (Owner is responsible for registering the chip directly with AVID.)
All pets must be in a carrier or on leash!
Owner must be present.
Special thanks to Dr. Bruce Bell
The lineup for this clinic will be outside.
*Licenses may be purchased at the event.
†Tax included
---